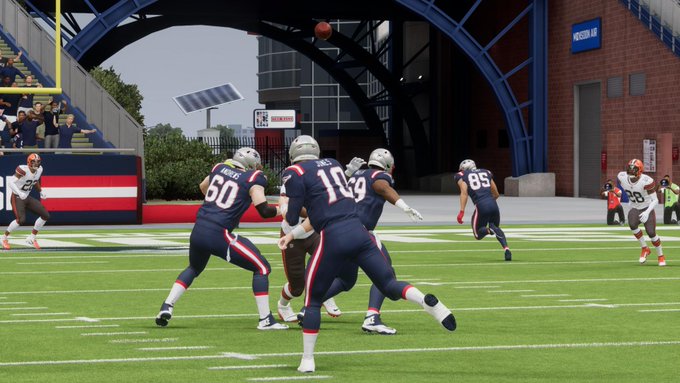 -----------------------------------------------
CLE (2-2) | 3 | 0 | 0 | 7 || 10
NE (3-1) | 7 | 7 | 14 | 10 || 38
-----------------------------------------------



Offense, defense shines in Patriots drubbing of Browns


New England announced themselves to the National Football League as a legitimate playoff contender with their thorough whooping of the Cleveland Browns last season. This time around, they might have just announced themselves as Super Bowl contenders.

The Patriots harassed Baker Mayfield all day, held Nick Chubb to just 2.3 yards per carry and Mac Jones threw five touchdown passes in the 38-10 rout of the Browns on Sunday to extend their winning streak to three.

New England stumbled around a bit in the first half, scoring fourteen points and Jones throwing an interception at the goal-line which kept New England in the game at the half. New England then rattled off three straight scoring drives, including three of them ending with a Jones touchdown pass. He had a 20-yarder to Jonnu Smith, a six-yard touchdown to fullback Cabinda off a boot leg and then found Jakobi Meyers across the middle for a seven yard gain.

It was Kendrick Bourne, who had been quiet the first three weeks of the season, who got the offense going. He finished with 99 yards receiving and had the first touchdown of the game, catching a strike before being sandwiched between two Cleveland defenders in the endzone, hanging on to it.

Bourne's play provided a spark and a ton of energy for New England's offense and defense.
----------------------------------------------------------------


Scoring Summary


Quarter 1
[NE] K. Bourne 18 Yd pass from M. Jones (9:01)
[CLE] J. Slye, 51 Yd FG (3:28)

Quarter 2
[NE] H. Henry 15 Yd pass from M. Jones (10:44)

Quarter 3
[NE] J. Smith 20 Yd pass from M. Jones (10:21)
[NE] J. Cabinda 6 Yd pass from M. Jones (4:04)

Quarter 4
[NE] Q. Nordin, 42 Yd FG (13:06)
[NE] J. Meyers 7 Yd pass from M. Jones (8:52)
[CLE] A. Hooper 4 Yd pass from B. Mayfield (6:09)
----------------------------------------------------------------


New England Patriots


QB Mac Jones: 24 of 29, 305 yards, 5 touchdowns, interception.
HB Damien Harris: 18 carries, 110 yards.
HB Rhamondre Stevenson: 12 carries, 28 yards.
WR Jakobi Meyers: 7 receptions, 77 yards, touchdown.
HB James White: 5 receptions, 31 yards.
WR Kendrick Bourne: 4 receptions, 99 yards, touchdown.
TE Jonnu Smith: 4 receptions, 56 yards, touchdown.
TE Hunter Henry: 3 receptions, 37 yards, touchdown.
LT Wynn: 83.0 PFF grade | LG Onwenu: 76.0 PFF grade | C Andrews: 81.7 PFF grade | RG Mason: 76.0 PFF grade | RT Brown: 76.0 PFF grade
EDGE Chase Winovich: 4 tackles, tackle for loss, 2 sacks (89.0 PFF grade)
LB Dont'a Hightower: 4 tackles, 4 tackles for loss, 2 sacks (82.3 PFF grade)
IDL Deatrich Wise Jr: 3 tackles, 2 tackles for loss, 2 sacks (87.2 PFF grade)
IDL Christian Barmore: 2 tackles, 2 tackles for loss, sack (79.0 PFF grade)
S Devin McCourty: 2 tackles, interception (62.8 PFF grade)



Cleveland Browns


QB Baker Mayfield: 22 of 32, 280 yards, touchdown, interception, sacked 7 times, fumble.
HB Nick Chubb: 9 carries, 21 yards.
HB Kareem Hunt: 4 carries, 20 yards, 7 receptions, 112 yards.
TE Austin Hooper: 6 receptions, 49 yards, touchdown.
WR Jarvis Landry: 3 receptions, 64 yards.
LB Anthony Walker Jr: 17 tackles, tackle for loss.
S John Johnson III: 12 tackles, tackle for loss.
LB Jeremiah Owusu-Koramoah: 3 tackles, interception.